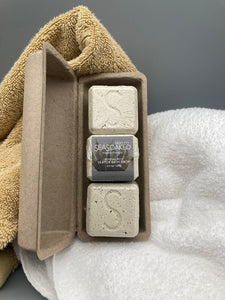 3.5 oz / 383 g (3 count x 4.5 oz)
You have to admit that there's nothing relaxing about the word "bomb" when taking a bath. Our mineral-rich Seatox Bath Drop is a cube that's packed with so many wonderful vitamins, nutrients and trace minerals. It is formulated with sustainably-harvested Alaskan kelp to help retain your skin's moisture, black Hawaiian lava salt to aid in detoxification, and organic, unrefined, virgin coconut oil to smooth and soothe the skin, niacinamide to reduce inflammation, tighten and tone the skin.
Whether at the end of a long day cleaning, shopping, running errands or after a weekend at the beach or the mountains, treat yourself to a Seatox Bath Drop. These natural gems will get you three baths and are individually wrapped in biodegradable film. Soak it up—you deserve it!
Unisex use for all skin types.