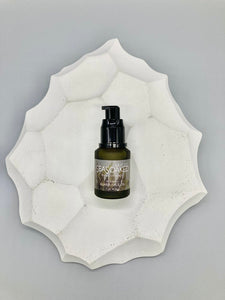 Referred to by some fans as liquid gold.
We do not carelessly use the words 'anti-aging' to describe our products. However, the positive response to this special oil has been overwhelming. It truly has turned back time on the many faces it has touched.
Our Alaria Face Oil was specially formulated to be lightweight, yet healing—encased with botanicals and boasting both antimicrobial and antibacterial properties. As the name suggests, this powerful, versatile serum refines, nourishes, protects and supports cell regeneration while boosting elasticity. Plumping and brightening are just a few more attributes this oil posses. Powered by several seed oils with protective properties in fighting against environmental skin stressors such as air pollution, UV rays and blue light, making it a transforming face oil. It's no wonder why this has become a show stopper. Anti-aging is knocking on your door.